Zucchini Bread
Ingredients: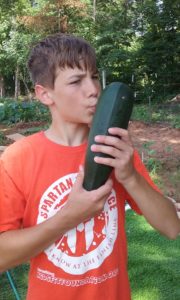 3 ¼ c of Flour
1 ½ tsp salt
1 tsp nutmeg
2 tsp baking soda
1 tsp cinnamon
3 c sugar
1 c olive oil
1 c pumpkin
⅓ c water
2 c grated zucchini
1 c grated squash
1 tsp lemon juice
Directions:
Preheat the oven to 350 degrees.
Combine dry ingredients. Then fold into wet ingredients.
Spray two standard pans, and cook for one hour, or until tester comes out clean.
Tomato Pie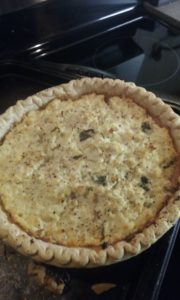 Ingredients: 
6c. Tomatoes sliced (we use BellStar)
1/4c. salt
1c. Extra Firm Tofu
1c. Low fat Cottage Cheese (salt free if you can find it)
1 medium yellow onion diced
4T. Fresh chopped basil
1 Large deep pie crust
Directions:
Place tomatoes in mixing bowl with salt, gently mix, cover, and let it sit for 1 hour. Rinse very well and then use a paper towel to remove excess water on tomatoes. (Most of the salt is removed in this step. The salt pulls the water out of the tomatoes so your pie isn't mushy).
In a different mixing bowl stir the remaining ingredients together.
Arrange tomatoes in pie shell then cover with the tofu mixture.
Bake pie at 350 degrees on a cookie sheet for 1 hour or until pie crust is brown and pie is bubbling. Serves 6.
Variations: 
1. Add 1/4c. diced bacon to the tofu mixture.
2. South Carolina Living magazine's June 2017 edition has "Hattie Mae's Tomato Pie" recipe that calls for hoop cheese and mayo instead of tofu and cottage cheese. Plus they are made in mini piecrusts.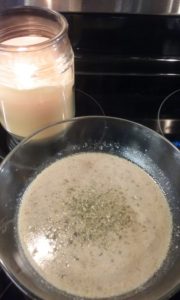 Hearty Mushroom Soup
Ingredients:
4c. Diced fresh Shiitake & Oyster mushrooms
1T. fresh Thyme, roughly chopped
1 small diced yellow onion
1T. reduced sodium soy sauce
2c. Vegetable Broth
1T. flour mixed in a small mixing bowl with 1T. water
1c. 1% milk
2 bay leaves
Olive oil & cracked black pepper
Directions:
In large skillet with olive oil cook the onion until soft. Add shroom mixture, soy sauce, and cook until moisture nearly disappears in a large pot. Next, add vegetable broth & thyme. Bring to boil and add bay leaf, simmer 10-15 minutes. Add flour mixture, milk, pepper and cook another 5 minutes on low heat. Stir on occasion because it will be thickening.
Remove bay leaves and serve. Serves 4.
Tips —- Have someone that has a texture issue with mushrooms? Then you'll want to mince the mushrooms in a food processor so they get all the flavor, protein and vitamins but not the softness of the mushroom. OR use dried Shiitakes instead of fresh. The drying process intensifies the flavor and also changes the texture. In this case, simply reconstitute the mushrooms in a shallow bowl with water or broth – just enough to get the shrooms full of moisture.
Peanut Butter Gingerbread Cookies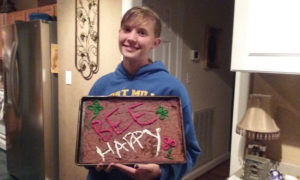 1c. Smooth Peanut Butter
3/4c. Honey
1 tsp Baking Powder
1/4c. Pumpkin.
Mix everything in a bowl, pour on a cookie sheet (greasing is optional). Bake 15 min at 350 degrees. Cookie bars are yummy warm or cold!
Rachael loves experimenting in the kitchen. She saw some peanut butter recipes & created her own blend using honey & pumpkin.
Mushroom Recipes!
The Mushroom Council has fantastic recipes for a variety of mushrooms.